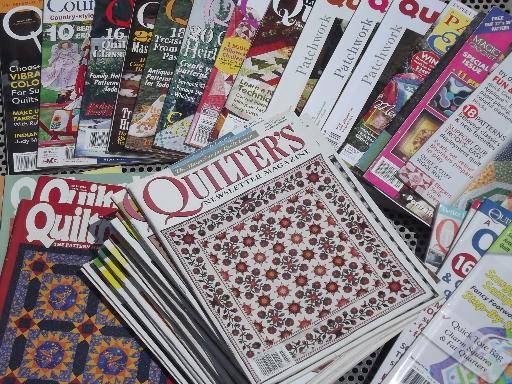 (photo found on web, no source info available)
Back in the day...a long, long time ago, I loved to read quilt magazines! I subscribed to almost all of them and I was lucky enough to be published in many of them.
Changes
Then things started to change. A few of the magazines went out of business one by one. Then it seemed all of the magazines that were left in the US were bought up and published by one company. This resulted (in my opinion) that they all began to look the same. They were almost all geared to beginner quilters with fast and easy projects.
And now
The current state of quilting magazines in the US is definitely in flux. The buy out and the sale and purchase of the magazine publishing houses in the US (for quilting magazines at least) seems to in a constant state of upheaval. I'm not even sure which magazines are still publishing and which ones are gone. I do know that when I look at the options at the local magazine seller, I'm usually disappointed. I never seem to find any US published magazines that have anything interesting to offer.
There's hope
International magazines seem to be a different story. Currently, I subscribe to
Quiltmania
and
Quiltmania's Simply Moderne
, and I also subscribe to the UK publication
Today's Quilter.
When I see the current issues of
Quilt Now
and
Love Patchwork and Quilting
I will often purchase them.
The only US magazines I subscribe to at the moment are
QuiltFolk
(so gorgeous!) and I am still a faithful reader of
American Patchwork and Quilting
even though I miss the good old days when they had projects that were featured step by step over a year or so because they were so complex and needed to be done in a series. And I really love
Primitive Quilts and Projects
even though it's very genre specific, I always find inspiration and fun tidbits by the contributors.
I would love to know what you are reading and what magazines inspire you these days? I would love to find out about some secret gems that I am missing. Please share your suggestions or preferences in the comments.
Enjoy every stitch!
Diane